The functionality that allows the microblogging system known as Twitter to provide a service to its registered users where they can share their thoughts crammed under 140 characters may seem easy.
But to some new users, the lack of explanations, an overabundance of unnecessary jargon, and a plethora of rules and etiquette might be confusing. So in this article, we have accumulated 25 questions about Twitter to make it manageable for you.
What is Twitter?
An American microblogging service, Twitter allows the registered users to share their thoughts and impressions under 140 characters with their 'followers' through threads of messages known as 'tweets.'
A registered user can engage in this platform without any restriction; however, there are certain limitations for unregistered ones.
Now let's get to the 25 most common questions about Twitter that you should know…
1 How to Change Twitter Handle?
Changing Twitter handle is very easy. By following a few steps, one can get it done. The method to change the Twitter handle is jotted down below:

Go to the Settings.
Head to Privacy.
Head to Account and tap on it.
Click on Username and alter it. You will be prompted to select another name if the name you have selected is already taken.
Lastly, click on Done.
2. How Often Should I Tweet?
Striking a balance between being an inactive person to becoming an overly-active person is the key here.
Depending on what you are posting, you have to understand whether to tweet about it or not. You have to keep two factors in your mind while tweeting something relevant…
Depending on the market, you have to decide whether the audience's anticipation is required or not.
Maintaining frequency is important. If you do it once, make sure that you do it daily.
With that being said, you should at least tweet once daily. It will help you maintain engagement with the audience.
3. How to DM Someone on Twitter?
To send private messages to someone, you can follow the instructions written below:
First, tap on the Messages (envelope icon).
Then you will be taken directly to the messages.
Now you will see the message icon above the search bar in the shape of an envelope. Tap on it to formulate a new message.
You will have to enter the username of the person you want to text.

Now write the message. Additionally, you can add videos, GIFs, and pictures with the text.
Finally, click on the paper airplane icon to send the text.
4. How to Get Verified on Twitter?
One has to satisfy particular requirements to become a verified member of Twitter. People belonging to specific sectors such as business, music, tv, film, fashion, government, politics, etc., can become verified Twitter members.
To increase your chances of a verification badge on your profile, make sure that your profile details like your name, profile picture, cover photo, website/app, bio, email address, phone number, and birth date are correct.
Also, make sure your profile visibility is set to "public." After that, you can submit the Twitter verification form.
For more information, you can read our guide on how you can get verified on Twitter.
5. Who Has the Most Followers on Twitter?
Many influential people from different sectors such as music, politics, and the showbiz industry are trending the chart of 'people with most followers on Twitter.'
Some of those users are:
Lady Gaga with 82.6m followers on Twitter.
Taylor Swift with 87.5m followers.
Cristiano Ronaldo with 88.1m followers.
Rihanna with 99.5m followers
Katy Perry with 108.9m followers
Justin Bieber with 113.1m followers
Barack Obama, with 125.9m followers, has also reserved a spot in the chart.
6. How to Get Followers on Twitter?
To increase your followers on Twitter, you can use specific techniques like…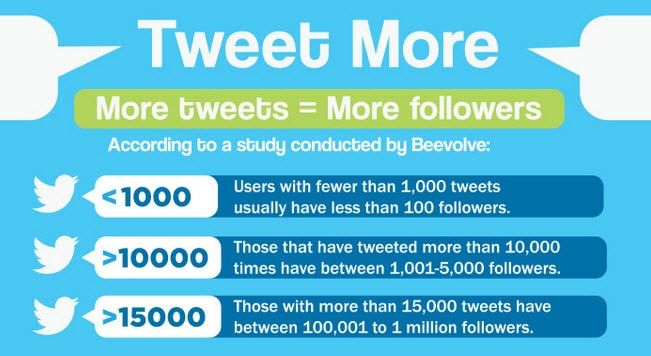 Keep on making new content as per your audience's demand.
Ensure that you include proper keywords in your profile to make it easier for people to find you.
Keep the content of your tweet shorter so that one can retweet it easily.
Include relevant hashtags in the tweets naturally, making it easier for unknown people to discover you.
Frequently interact with people who fall under your niche.
7. How to Make a Thread on Twitter?
Sometimes, a limited set of characters are not enough. Creating a thread is necessary to express feelings.
You can create a thread by following the steps written below:
Click on the compose icon to create a tweet.
To add to the tweet, you are required to click on the highlighted plus icon (the text that did not make one single tweet will be accentuated).
In case you want to erase and tweet from the thread, you have to tap on the grey delete icon while the blue delete icon needs to be hit to delete the whole thread.
After you are done writing your tweets, you have to add them to one composed thread.
Now you have to click on Tweet all to post it.
8. How to Block Someone on Twitter?
Sometimes muting someone is not enough. As when you mute someone, you can still see their profile and tweets.
So to block someone, you can follow these steps: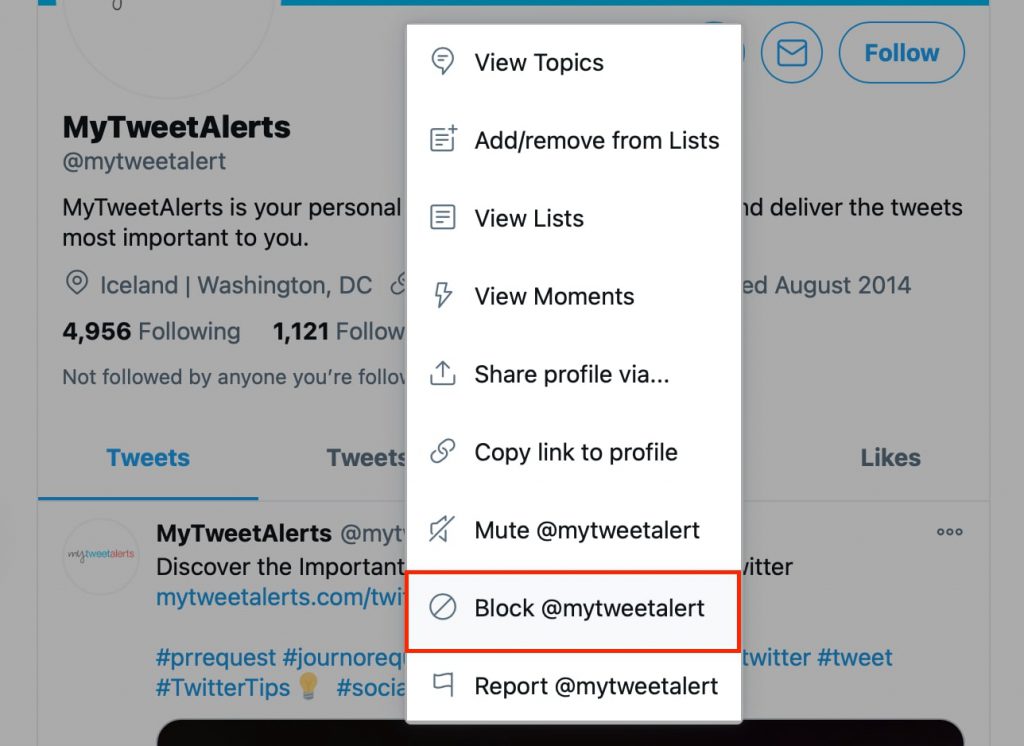 First, go to the account's profile page that you wish to block.
Click on the More icon on their profile page.
Next, select Block from the menu.
Tap on Block to confirm the account block.
9. Can you See Who Views Your Twitter account?
A straightforward answer to this question is no. There is no chance of understanding or knowing who has seen the tweets of a particular user. A user cannot possibly know who has, and for that matter of fact, hasn't seen their tweet.
However, if you want to draw a general conception of how many people have seen your tweets, you can check your Twitter analytics page.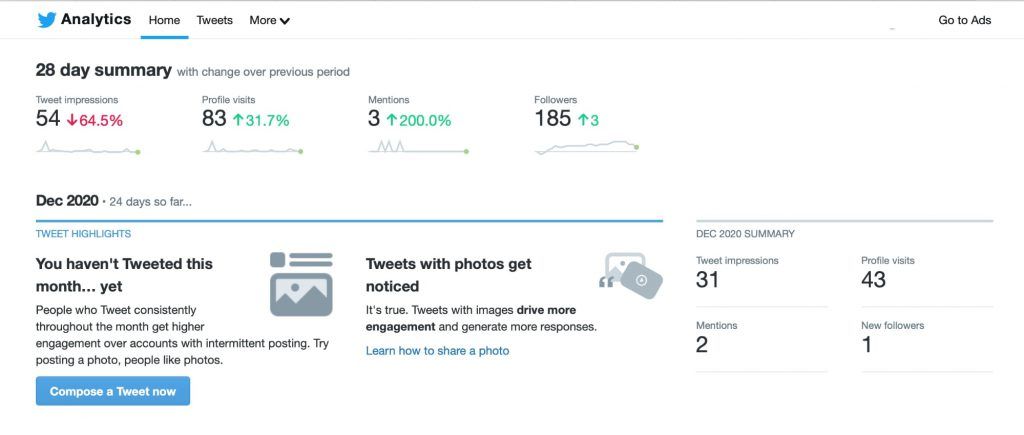 Twitter Analytics dashboard will show you all the information about how people engage with your tweets, your Tweet activity and followers, numbers on retweets, replies, likes, and data on who your audience is.
10. Who Unfollowed Me on Twitter?
The notion of unfollowing people is generally very interesting. Though Twitter does not allow its users to know exactly who has unfollowed the specific user and when. However, it is generally easy to get to know that using third-party applications.
To know who has unfollowed you, you can use applications like UnfollowSpy and WhoUnfollowedMe.
Upon installation of any of these applications, you will be able to see who has unfollowed you via notifications. If you want to be notified with a list of people who have unfollowed you via an email, then you can download applications such as TwittaQuitta or ZebraBoss.
You can also use the Blolook application to see who blocked you on Twitter.
11. How to Download Twitter Videos?
Sometimes sending a video on Twitter to some other recipient becomes a painful affair. You can make it easier by downloading the videos from Twitter by following these simple steps:
First, download a third-party application called Twitter Video Downloader.
Now navigate to the tweet, which includes a video.
Now you have to get the link/URL of the tweet.
To get the link, click on the tweet and copy the URL from the address bar.
Now paste the tweet link in the Twitter Video Downloader application.
Finally, click on the Download button.
12. How to Save GIFs from Twitter?
Nowadays, GIFs are used by many users to express emotions on all social media platforms.
But Twitter doesn't have any default feature that you can use to save GIFs directly to your computer. So to save GIFs from Twitter, you will have to use tools like Tweet2gif or EZgif.
If you're on Android, download the Tweet2fif app and follow the steps:
First, go to the Tweet that includes the GIF that you want to save.
Tap on the share button.
Select Tweet2gif.
Next, click on Download GIF to save the file to your phone.
You can also copy the link to tweet and paste it in the Tweet2gif app to directly download the GIF file.
If you're on PC, you can use the EZgif free convertor tool…
Go to the tweet with gif and copy the tweet link.
Visit EZgif's video to Gif converter tool.
Paste the link.
Finally, click on Save to download the GIF to your PC.
13. How to Make the Twitter Account Private?
By default, all Twitter accounts are set to public visibility. So when you tweet something, anyone on Twitter can see and reply to your tweets.
But if you don't want to post everything in the public record, you can make your Twitter account private. Private accounts tweets can only be seen by your followers, so you can be sure that all your content is safe.
Now, to make your Twitter account private, you have to restrict who can see your tweets. Follow the steps written below to protect your account:

Log in to your Twitter account.
Go to Settings and Privacy.
Click on Privacy and safety.
Then under Your Twitter activity, click on Audience and tagging.
You will see a box there that says Protect your Tweets; you have to click on the box to make your account private.
14. How to Deactivate a Twitter Account
Sometimes vanishing from the social platform is the break you just need. To deactivate your Twitter account, you have to follow the rules written below: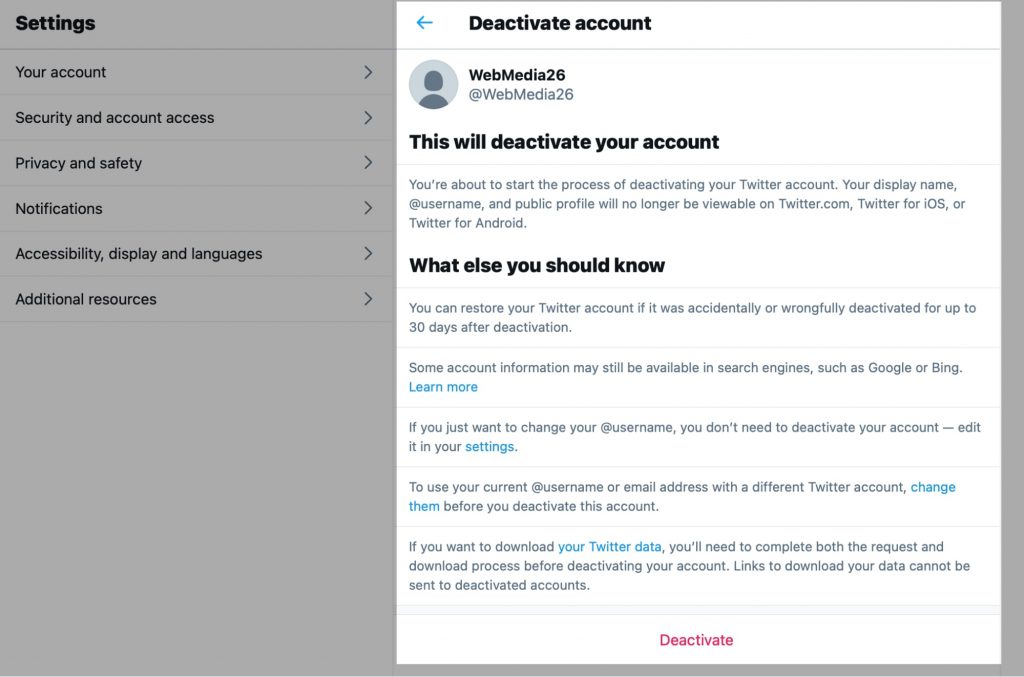 Log in to your Twitter account and click on your profile picture.
Then click on the option that says Account.
Tap on the Deactivate account that is situated at the bottom.
Next, you are required to read the account deactivation information.
Click on Deactivate.
Finally, enter your password and then click on Deactivate again.
Make sure that you click on Yes for confirmation.
You can follow these instructions on every device, be it iOS or Android.
15. How to Delete a Twitter Account?
It seems that deleting your Twitter account is not an option. Erasing the Twitter account out of existence can only be done by deactivating the account.
To deactivate your Twitter account, you can follow the steps mentioned in the previous question.
You can also read our guide on how you can delete Twitter likes quickly.
16. How to Reactivate a Twitter Account?
If you want to reactivate your account, follow these instructions:
To reactivate your account, visit twitter.com.
Now you have to login into twitter.com, or you can open your Twitter app on iOS or Android.
Then enter your login credentials.
You will have to confirm that you want to reactivate your account before you sign in.
If you select that you want to reactivate your account, then you will be redirected to the Twitter home feed.
17. How to Remove Followers on Twitter?
There's no way to control who follows you unless you have a private account.
To remove the followers from your profile, you will have to block them. This will remove the intended person from your follower's list. It will also remove you from their followers' list.
Here are the steps you can follow to remove someone from your Twitter account…
Go to your Twitter account.
Click on your profile picture in the left navigation menu if you're on the Twitter website.
On the next screen, click on the option of followers.
Now you will have the full list of your followers.
Tap on the name of the follower that you want to block.
Then click on the Menu icon near the Following button.
You will see many options on it from which you have to select block.
After clicking on the block, you will see a popup asking for your confirmation.
Click on block again to remove the account from your follower's list.
18. How to Use Twitter for Business?
A social media platform can be used for many purposes. From personal to professional, you can use Twitter, Facebook, or even Instagram to promote your business.
However, you will have to apply some strategic planning to get a good ROI from social media accounts like Twitter. Here are a few tips that you can follow to optimize your Twitter business profile…
Use custom branded pictures, banners, targeted bio with relevant hashtags to stand out from the rest of the competitors. Only by standing out in the crowd, you can garner attention.
To grow organically, post valuable content. This will ensure that you are actually helping your audience in addition to the promotion of your product or service.
Promote your business by spreading awareness about your product, educating the audience, and genuinely creating a niche for the product.
Finally, optimize your tweets to get a higher reach in your targeted audience. For example, you can include research-based hashtags in your tweets and experiment with the tweet frequency to find the right strategy for your business account.
19. How can Twitter Benefit the Business?
According to recent surveys, there are over 330m monthly active users on Twitter, and 77% of Twitter users positively react when they receive a response from a brand.
This shows how effective Twitter can be for marketing campaigns.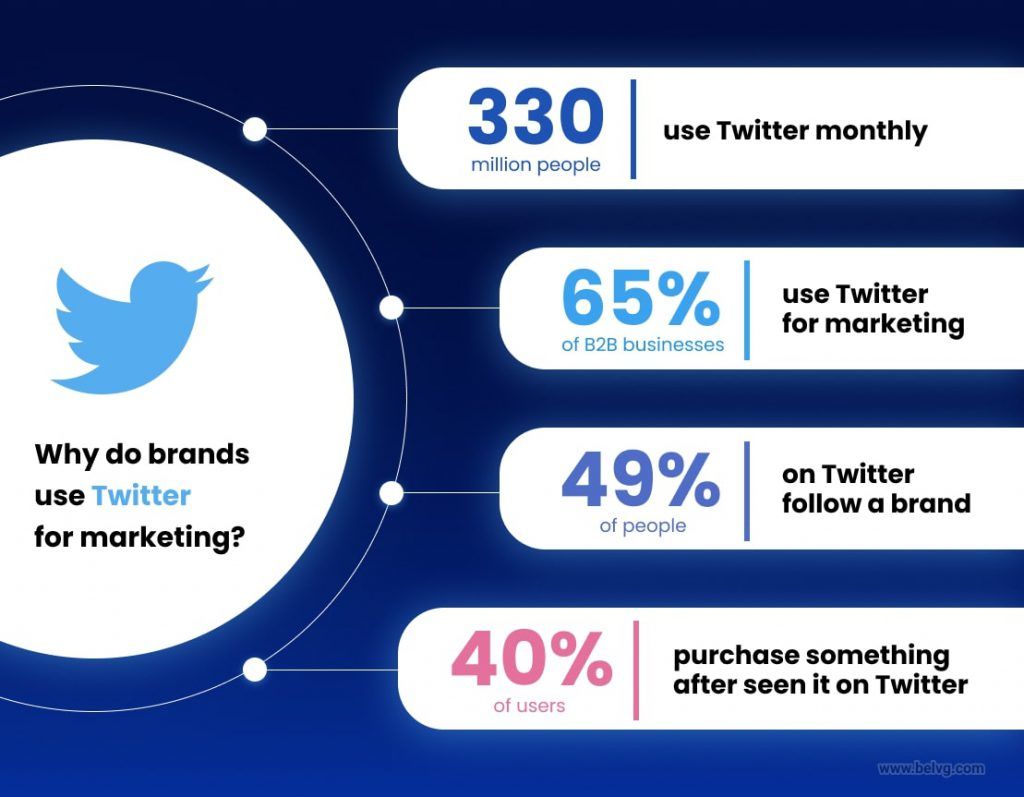 So to make your business thrive on Twitter, you can refer to some of these strategic tips…
Twitter is a great tool that can be used to search for potential competitors in the same business field. To get a competitive advantage, you can monitor their promotional tactics and quickly launch campaigns to counter.
Regularly update your account to establish brand authority and demonstrate your expertise.
You can also use Twitter to identify your audience's needs. Depending on who your audience is, you can extend your reach and promote your brand.
20. How to Connect Twitter account to Facebook?
Connecting your social media accounts is a great way to extend your reach.
To connect your Twitter account to Facebook, follow these steps:
Make sure that the Facebook account that you want to link with Twitter is logged in.
Now go to facebook.com/twitter on your computer.
Next, click on the green Link My Profile to Twitter button.
Upon clicking on it, you will be redirected to Twitter.
Then, click on the Authorize app button (you can read all the terms and conditions before confirmation).
After that, you will be taken back to your Facebook account to confirm the connection. You can disable the cross-post with the Twitter option if you don't want to post from both accounts simultaneously.
Now click on Save Changes.
Your Twitter account is successfully linked to Facebook.
Note: A few months back, Facebook disabled the link to connect with Twitter, so until the link is activated again by Facebook, the only way to connect Facebook with Twitter is with third-party apps like Buffer and SEMrush.
21. How to Go Live on Twitter?
Some moments require us to go live.
If you don't know how to go live on Twitter, let us show you…
Go to your Twitter account.
Click on the camera icon.
Now tap on the option that says Live situated at the bottom selector.
If you want to go live with just audio, click on the microphone. You can add additional information such as location and tweet to go along with the live audio.
Now you have to invite guests before going live. So tap on the invite guest option and click on the profile icon of the guest you want to add.
Click on save.
Now tap on Go Live.
That's it! Your live feed will start instantly.
22. How to See What's Trending on Twitter?
You can find the tweets that are trending on Twitter in the "Trends" section in the Explorer tab.
Twitter also displays trending tweets in many other places (depending on the device), such as under the Home timeline, search results, Notifications, and profile pages.
You can also setup customized trending tweets alerts with MyTweetAlerts tool to get direct email (or Slack) notifications. This is super useful in tracking specific hashtags, users, mentions, and tweets.

With a Twitter monitoring tool like MyTweetAlerts, you can discover tweets before they go viral so that you can assess and reply to the situation properly.
23. How to Make a Twitter Bot?
Making a Twitter bot is very easy. By following these six steps mentioned below, you can successfully get one structured:
First, you will have to apply for a Twitter developer account.
Then go to create a Twitter app in your developer account.
Set up a development environment.
Then link your Twitter app with your development environment.
You can program your bot now.
Finally, test your bot and make it live.
24. Can You Sell Stuff on Twitter?
You cannot sell stuff on Twitter directly like you can sell on Instagram.
However, you can engage with your audience, create anticipation, and post promotional content to increase sales.
25. How Do I Get More Retweets?
Retweets on Twitter are a great way to reach new audiences. More retweets can get you a constant flow of new followers, brand influence, and targeted traffic.
Here are some tested methods that have worked for multiple users:
Always use hashtags. The inclusion of hashtags increases your chances of being discovered by new users.
Do not indulge in idle chit-chats. Sharing daily routines will not increase your retweets numbers.
Always leave some room for retweets. So ensuring that your tweet is small is important.
Maintain frequency. You should tweet daily to increase anticipation.
Try to take a sarcastic approach with your tweets.
You can embed your Wordle image with a little bit of code. Go to the page you've created in Wordle, and click the "Share" button. Select the option for sharing on Twitter. Copy the link that's generated for you.
27. How do you ask Twitter for an unused account?
You can ask Twitter for an unused account by first reporting it to Twitter. Go to https://support.twitter.com/forms/impersonation and login to your account. Then select the option "An account is impersonating me or somebody else". Then enter the required details like email, the username of the account you are reporting, and an explanation. Next, you will have to upload a valid photo ID. That's it, you will get a response from Twitter within 24 hours.
Conclusion
Twitter has become a very popular social media channel for marketers to reach new audiences. It is now the fastest way of spreading information for journalists, politicians, and the general public.
So to help you understand this platform, we have covered all of the most asked about Twitter. Let us know in the comments if you want us to cover any specific questions in the next update!