Today's world belongs to social media, and being blocked on any of your favorite social media services can be quite frustrating.
Especially when you're blocked by someone on a social media platform like Twitter. But, is there any way to see who blocked you on Twitter?
In this post, we will see how you can use Blolook to see who blocked you on Twitter.
How to use Blolook to see who blocked you on Twitter?
Before we begin finding who blocked you on the microblogging site, let us make it clear that it may not be very easy to see who blocked you.
Twitter keeps all the bocking related information difficult to see. Even by using services such as Blolook, the data may not be genuine and useful.
You may not get access to clear information, but of course, you can get an idea of who might have blocked you.
The steps involved in finding the blockage status of your Twitter account are:
Visit the official Blolook site.
You will find detailed information on using Blolook and what Blolook can do for you on the site's homepage.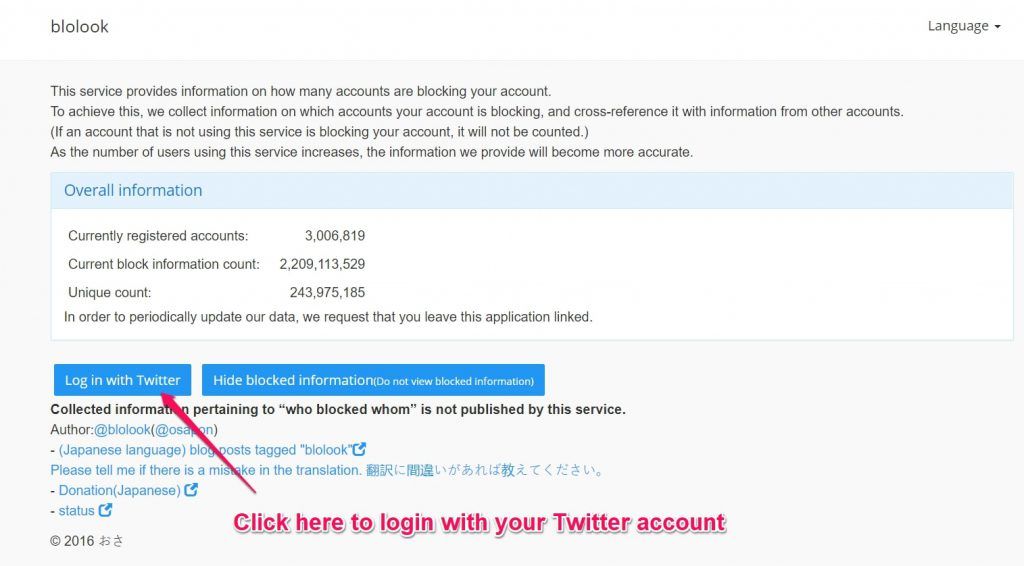 Login with your Twitter account to find more about the blocking status of your account.
You will need to authorize the app from Twitter. It is a security measure used by Twitter to ensure that you are human and not a bot.
Click on the Authorise app option.
Once done, you will be redirected to the application.
The application will scrape through your account details and show you how many accounts are blocking you.

Note that Blolook will not let you know who exactly is blocking you.
It will only show the number of Twitter accounts that are blocking you, as it is practically impossible to find who blocked you.
Is the information gained on Blolook Genuine?
Blolook itself does not authenticate the results shown on Blolook. That is the exact reason why we said that the tool only lets you know the number of users who may be blocking you.
The service collects the information on accounts that block your account and makes a cross-reference between other accounts registered on the app. So, the system will work only when both you and the account blocking you are using the service. If any of the accounts that are blocking you are not using Blolook, the app may not show you information.
Blolook mentions that "…if an account that is not using this service is blocking your account, it will not be counted." So the data on the app is not very reliable and can not always be helpful.
The Closing Thoughts
Finding who blocked you on Twitter is practically impossible. While there are tools such as Blolook that claim to do that for you, the maximum they can do is to let you know the total number of accounts that may be blocking you.
Until and unless Twitter provides an API for the apps and tools for scraping the information on who is blocking you on Twitter, no app or tool can do it. Exercise caution when using any tool that claims to do so.
You can also read our guides on how to get verified on Twitter, and how to change the Twitter username.
FAQs
Is there a way to see everyone who has blocked you on Twitter?
No. There is no official way you can see who blocked you on Twitter. While Blolook or similar other services may claim that they can let you know who blocked you on Twitter, they can only go up to the extent of how many accounts blocked you. They will not provide you the exact details on who blocked you on Twitter.
Is Blolook safe to use?
From our experience with the app, we can claim that Blolook is safe to use. There have been no reports of any malware or hacking attempts. However, we cannot vouch for the authenticity of the information provided by Blolook.
Are there any other good Blolook alternatives?
Well, Blolook may not be the best option for finding who blocked you on Twitter. However, it does provide you good information on your account's blocking status. We could not find any alternatives that can handle the functionality in a way Blolook can.
How to see the accounts that you have blocked on Twitter?
If you are looking to find the accounts you have blocked on Twitter, you can find it in the Privacy and Security > Mute and Block > Blocked accounts section on your Twitter profile.