Have you heard about Twitter Lite App for android? It is about time, isn't it? If you love Twitter, you will definitely love Twitter Lite App for all reasons.
So in this post, we will explain the features of this app and how you can quickly download the Twitter Lite app for your mobile.
About Twitter Lite
You're probably already familiar with the original Twitter app for Android, iOS, and other operating systems. This is a premium app that allows you to access all of the features of Twitter: you can post tweets, send direct messages, follow other users, and do everything else that comes with being a member of the Twitter community.
The only problem is that this app requires a lot of data to run smoothly. If you live in an area with poor internet coverage or pay extra to get more data from your mobile provider, it's easy to go over your data limit without realizing it. This is especially true if you follow multiple accounts and like to keep up with your friends' tweets.
This is where Twitter Lite is useful.
Twitter Lite App is a lighter version of the main Twitter app. It's intended to work best on slow connections, but it can also be used on fast connections if you don't want to use the standard Twitter app. It was designed for emerging markets, but it can be used anywhere in the world where internet connectivity is slow or expensive.
Unlike the main Twitter app, Twitter Lite does not have a lot of functions or features. You can't see your "likes", you can read your timeline in chronological order, you don't see trends, lists, or Moments. But it loads much faster than Twitter's mobile apps and allows you to use Twitter more easily without needing to give up a lot of features.
Why Twitter Lite is Different?
Twitter Lite is a slimmed-down version of Twitter that takes up less space on your phone. It uses less data and loads quickly, even on a slow network.
While the standard version of Twitter requires over 20 MB of space, Twitter Lite only needs 1.2 MB. It also doesn't have all the features of the original Twitter, such as Moments, direct messaging, and polls.
With Twitter Lite, the company aims to reach a wider audience while reducing data usage, making it a viable alternative to SMS and other messaging apps. The idea is to provide a faster and smoother experience for those who might not be able to use Twitter easily due to the aforementioned reasons.
How to use Twitter Lite on Android
Twitter Lite is getting a lot of attention these days, and for good reason. The app is an excellent resource for Twitter users with slow connections to the internet or who are outside of the United States.
Trying out Twitter Lite can be a great way to see how you like it before you download the full app. So follow these steps to install the Twitter Lite app on your phone…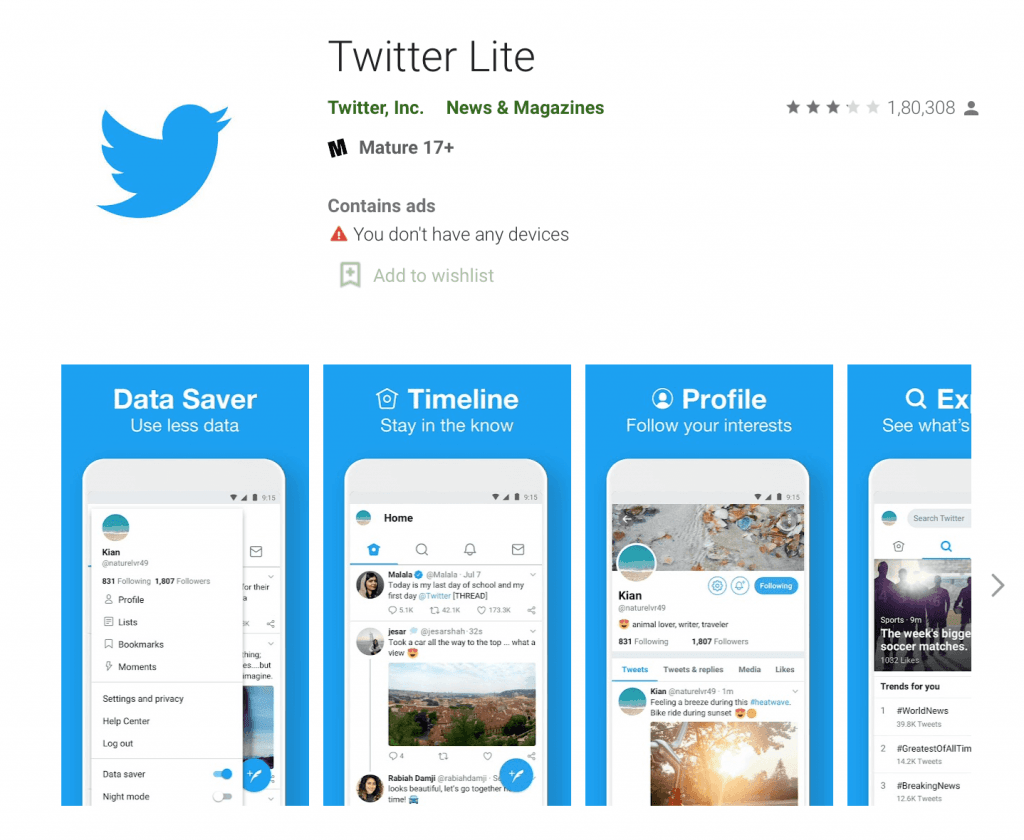 Go to Play Store and search for Twitter Lite, or click here.
Click on Install Now to install the app on your phone.
Once installed, open the app and tap Log in.
Enter your phone number, email, or username with password.
Tap Log in.
And that's it! Now you can use the new Twitter Lite app to browse Twitter on your phone.
To post a tweet, you can click on the Compose Tweet icon and there you can write and post your tweet.
Twitter Lite app also supports the dark mode that you enable by going to your Profile > Display > Background, and then selecting Dim or Lights out accordingly.
Conclusion
Twitter Lite App is a way to access Twitter on your Android and iOS device with a faster and more data-friendly experience. It's a great way to connect, instantly and directly.
It is an interesting and promising app that, despite its lack of features, could appeal to a number of users. If you're someone who isn't interested in videos or any other social media distractions, Twitter Lite is a great choice that offers most of the services of the original platform without any of the bloat.
Twitter Lite Download FAQs
Is there a lite version of Twitter?
Yes, there is a Twitter Lite. It's designed for markets with slow internet connections (aka developing countries) in mind. It works exactly like the regular Twitter app and website, but it's around one-tenth of the size. That means it loads faster and uses less data.
What is the difference between Twitter and Lite?
Twitter Lite is an optimized version of Twitter for people on slower connections. It has a streamlined design and it loads quickly even on 2G networks. As for the differences between the regular Twitter app vs the Lite app is that the latter lacks some features like poll creation, location sharing, editing photos, and more!
Is Twitter Lite available for iOS?
No, Twitter Lite is not available for iOS. But you can visit mobile.twitter.com on Safari, and set the page as a Home screen icon. Doing so will add the Twitter page icon on your home screen.
Is Twitter Lite a web app?
Yes, Twitter Lite is built as a Progressive Web App (PWA) version of the Twitter client.
Does Twitter Lite have dark mode?
Yes, the Twitter Lite app supports the dark mode which you can enable in your Profile settings.
Discover the tweets important to you with MyTweetAlerts
Try it first, if you like it, pay for what you use. No credit card required.