Twitter is a great way to connect and communicate with people; however, if you intend to use it for marketing you will come across many questions.
So in this post, we try to answer many of the questions to help you get the most out of the Twitter search tool.
But before starting with the Twitter search FAQs, let's see how you can use a Twitter monitoring too to better search on Twitter…
Try MyTweetAlerts — Best Twitter Search Alternative
MyTweetAlerts is a Twitter monitoring tool that you can use to track what people are saying about your brand and business. In addition, you can also use the tool to quickly search on Twitter as this tool offers many different filter options than the regular Twitter search.

For example: you can use MyTweetAlerts to search by lower or upper case letters, with special characters, or ignore tweets from a specific username or keyword.
Here's a complete list of filters you can use with MyTweetAlerts to search tweets on Twitter: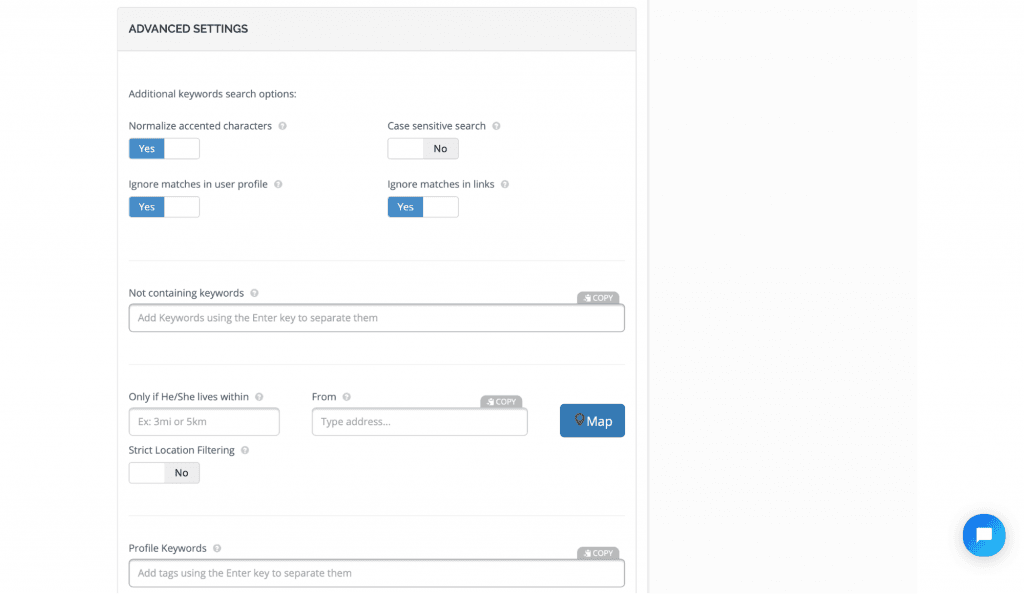 Tweets with / without specific keywords
Tweets from specific accounts
Ignore keyword matches in links
Ignore keyword matches in user profile
Tweets from a specific location
Tweets from list members
User accounts having keywords in their profiles
Tweets only from followers of a specific account
Tweets only from followings of a specific account
Accounts with more than (X) followers
Accounts with more than (X) retweets
Accounts with more than (X) likes
Accounts with more than (X) replies
Accounts with a specific followers / friends ratio
Tweets containing a link
Tweets in a specific language
Tweets from verified accounts only
Tweets with reples
Tweets with or without media attachments (image, gif, video, etc.)
The best part about using MyTweetAlerts for Twitter search is that you can fully automate this process by setting up pre-defined email alerts with hourly, daily, or weekly emails or Slack notifications.
So you can set up your alerts based on different criteria (like brand name, business-related keywords, customer research, etc.), and the tool will start collecting all the relevant tweets for you.
Twitter Search FAQs
Here are some frequently asked questions (FAQs) and answers about the Twitter search tool.
How do I get search settings on Twitter?
When you search for something on Twitter using the search box, you can set a few options. To get the search settings, visit twitter.com and click on the search bar. Then click on the gear icon to open the search settings. You can use the search filters options to filter your results from anyone, people you follow, or people near your location.
What is Twitter's advanced search?
As the name suggests, Twitter's advanced search is a more advanced way of searching that gives you more control over what you're searching for and how many results you want to see. It allows you to filter your search results based on various criteria. This can be useful for finding Tweets that match your interests and preferences.
How do I find advanced search on Twitter?
To use the advanced search, visit https://twitter.com/search-advanced, and then you can use the appropriate filters to find all the relevant tweets.
How do I turn off safe search on Twitter mobile?
Turning off the safe search is easy on the desktop version of Twitter. Just go to your profile, scroll down to the bottom, and click Settings > Privacy and safety > Content you see and then just check the box next to "Display media that may contain sensitive content," and you're good to go.
Note that Twitter's safe search is a feature designed to keep you from seeing content that you may find offensive. If you turn it off, people you are not following and whose accounts are set to protect will not show up in your search results.
How do I use Twitter search operators?
"Use Twitter search operators" might sound like a daunting task. But once you learn the basic search operators, it's pretty easy. And they'll allow you to find exactly what you're looking for on Twitter. The best way to use them is with Twitter's advanced search function, like keyword (search by keywords), @keyword (search for user), #keyword (search for hashtags), and more!
Can you search Twitter for a specific date?
Yes, you can search Twitter for a specific date. To search for tweets by date, go to Twitter advanced search, and simply select the From: and To: date fields from the calendar drop-down. You can also use specific dates with "-after" and "-before," so you can narrow down your results even further.
For example, if you're trying to find everything Twitter has archived on a particular subject, but you don't know when it happened, enter "subject -since:yesterday" or "subject -until:lastweek."
How do I find tweets from a specific time frame?
To find tweets from a specific time frame, go to the Search tab of your Twitter page. In the search bar, type in "from:username since:YYYY-MM-DD until:YYYY-MM-DD."
Why can't I search my old tweets?
When Twitter changed its user interface in 2012, it removed the ability to search your own tweets. It was a controversial move that upset many users. This is because Twitter doesn't show you all of your tweets like Facebook does. Instead, it only shows you relevant tweets based on what it thinks you want to see.
So if you have an old tweet that features a keyword that's suddenly trending, or if someone tags you in a tweet and it becomes popular, Twitter may decide to show your old tweet instead of the current one when people search for relevant keywords.
Twitter has said that showing your entire tweet archive is too much information for most people, and the company wants to focus on curating what people see in their feeds rather than giving them access to everything they've ever tweeted.
How do you find tweets from a specific person?
The best way to find tweets from a specific person is to use the Twitter search bar. This bar is located right above your timeline and profile information and allows you to search for particular words, hashtags, and even emojis in your search history. You can enter a specific username or the person's name in the search bar to find someone on Twitter.
How can I see my search history on Twitter?
Currently, there's no way to see your search history on Twitter. You can only see and download your account activity by going to your activity page https://twitter.com/settings/activity. From here, you will be able to see all of your past account history.
Does Twitter collect search history?
No, Twitter does not collect, scan or otherwise store your search history. However, the company does track your location and IP address for security purposes. And, when you tweet about a news story, the company may save that information to provide better context in the future.
You can search for hashtags in the Twitter search by applying "#" before a term. You can also visit the advanced search and enter the hashtags to search bulk terms.
How do you search someone's tweets?
There are a few ways to search someone's tweets using Twitter. The easiest is to use their name in the search box with quotes, or you can use their username without the "@" symbol. You can also search their exact tweet by placing it in quotes and leaving out the username.
What is trending in Twitter Search?
Trending topics and hashtags are real-time search results based on an algorithm. Twitter updates the trending topics and hashtags list every few hours, and these updates can vary in number depending on the time of day and the news cycle. These trends can be viral-type topics, breaking news, or even things trending worldwide. The best part about these trends is anyone can search for them and get the current information.
What is Twitter search ban?
A person who is unable to use the Twitter search function can be referred to as a "Twitter search ban." Twitter search ban refers to the temporary or permanent suspension of a Twitter account as a result of violating its terms of service, including spamming.
To combat spam and abusive behavior, Twitter has banned thousands of accounts from the platform. Although most suspended users can appeal suspensions, several high-profile individuals have been banned for life for breaking Twitter rules. In rare cases, Twitter has issued permanent bans for specific individuals.
How long is a Twitter search ban?
If you're wondering how long you'll be blocked from using Twitter's search function, you can rest easy: there's no set time. It depends on who handed down the sentence and why. The worst-case scenario is if your account gets reported by one of the many spam filter bots used by the micro-blogging site to delete spammers and bots.
In this case, you can count on being out for good—permanently suspended from using Twitter ever again. More often, though, you'll only be banned temporarily—for anywhere from 12 hours to 30 days—and given a chance to redeem yourself before you're permanently booted off Twitter.
Why can't I search on Twitter without an account?
You can't search on Twitter without an account because of the spam problem. The way Twitter is set up, it's pretty easy to get accounts, and this means that spammers could pretty easily create lots of accounts and use them to post links.
To stop this from happening, Twitter has decided to require people to have an account before searching for content on Twitter. If you want to see what people are tweeting about a particular topic, or get your own tweets back from a search, you need an account.
Discover the tweets important to you with MyTweetAlerts
Try it first, if you like it, pay for what you use. No credit card required.