With over 335 million active users and over 6,000 tweets per second, Twitter is a very powerful social media platform. This is precisely why it always finds a place in most marketing strategies and media plans.
Twitter also have a advanced search result tool that is available for everyone to use for free.
In this article, we'll see what exactly Twitter Advanced Search is and how we can use it for effective marketing on Twitter.
Twitter Advanced Search Overview
The regular search on Twitter is akin to searching for a needle in the haystack. But its advanced search can be used as a social search engine.
The Twitter Advanced Search can help you narrow down your search results with operators such as keywords, date range, people, usernames, etc.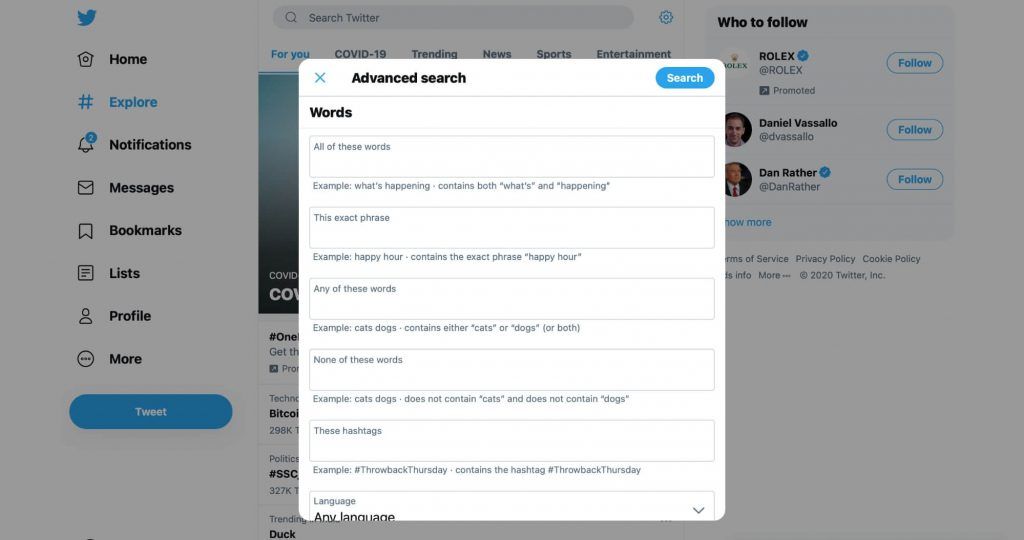 Advanced search option is available only when you are logged in on the web version of Twitter. So with mobile Twitter search you cannot use the advanced search tool.
To access advanced search on Twitter, you can click here to visit the page or follow this link: twitter.com/search-advanced.
Difference Between Twitter Standard Search & Advanced Search
The difference between the Standard Search and Advanced Search is quite obvious — as clear from their names.
With the standard search, you can search for different things using specific keywords. However, the issue with this approach is that you will have to remember all the search operators.
Some of the search operators that you can use in the Twitter standard search are:
| | |
| --- | --- |
| Operator | Finds tweets… |
| Twitter search | It uses the standard search |
| "fifty scents" | Searches the exact phrase "fifty scents" |
| love OR hate | Search for "love" or "hate" or both |
| grass-root | Search for "grass" but not "root" |
| #keyword | containing the hashtag "keyword" |
| from:nelsonkamt | Search for "nelsonkamat" |
| to:crunchy | Search for the person or user "crunchy" |
| @gram | mentioning person/company "gram" |
| "books" near:"New York." | Looks for "books" and sent near "New York" |
| news source:twitterfeed | containing "news" entered via TwitterFeed |
With Twitter Advanced Search, there is no need to remember any of these search parameters.
Understanding Twitter Advanced Search — The Key Search Parameters
Now lets see all the search fields of Twitter Advanced Search and understand how you can use it for different purposes.
Word Specific Search Parameters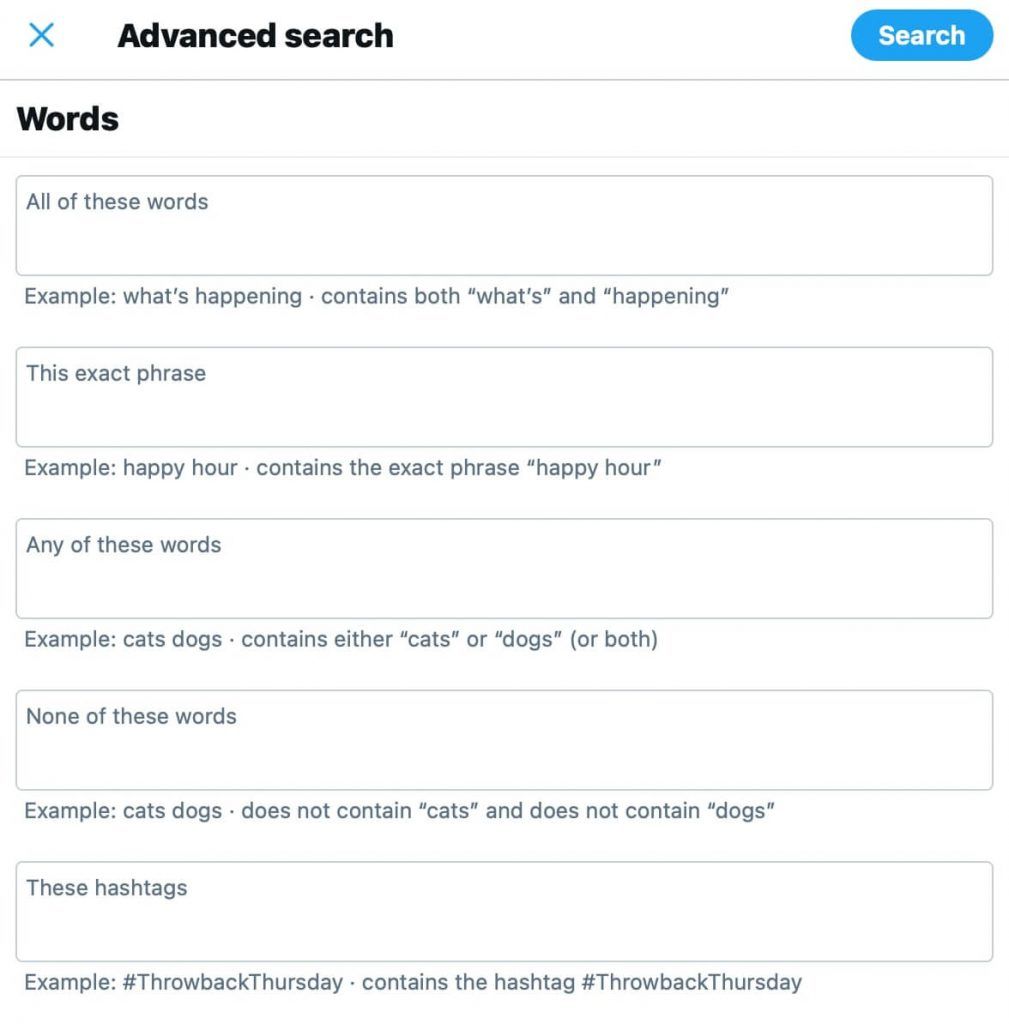 All of these words:

In this field, you can enter words and find tweets that contain those words. You can use as many words as you want with different combinations to get the results. You can even use quotations to indicate the exact phrases, like "hello friends" will surface the same words Hello Friends, while

hello, friends will come up with search results containing either hello, or friends, or both.

This exact phrase: This field is for one single term.

Any of these words:

The words are separated with the terms OR in this field. The search results can contain any of the words that you will enter, but not necessarily all of them. For instance, house OR mention OR word will return the search results with any of the phrases:

house, mention

, or

word.

None of these words: This can be a powerful field to remove words from the search. For example, you can use this to filter tweets that contain competitor brand names.

These hashtags: You can enter hashtags here to narrow down the search.

Written in: This will identify the language of the tweet. You can select from as many as four dozen languages.
People Specific Search Parameters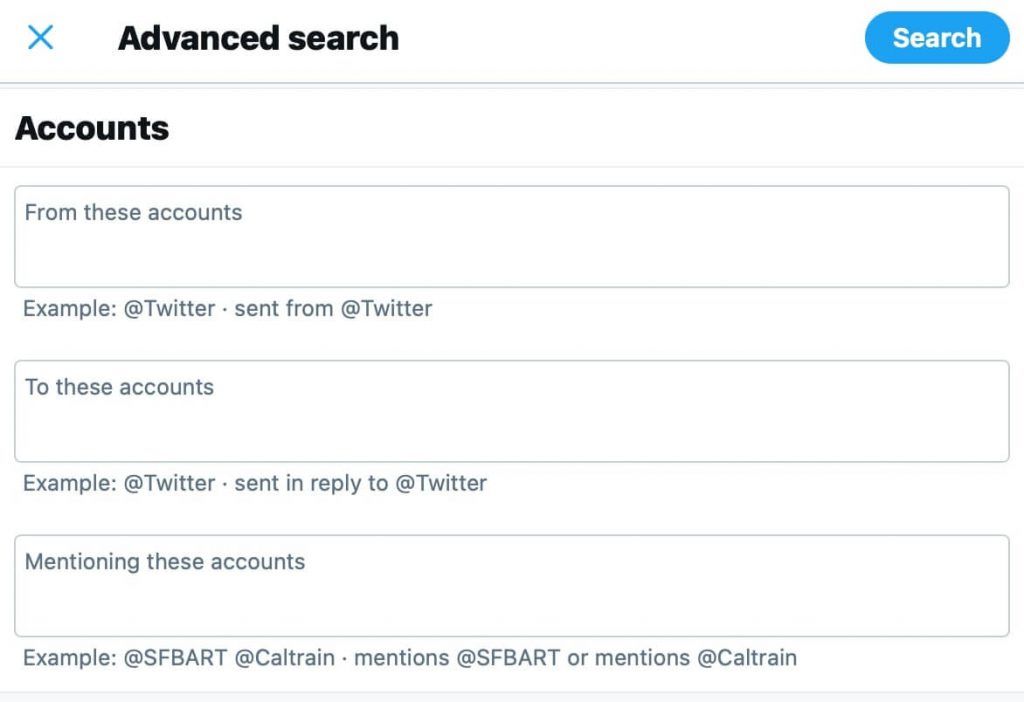 From these accounts:

This will show tweets from specific Twitter account mentioned by you.

To these accounts:

Tweets sent in reply to particular accounts.

Mentioning these accounts:

T

weets that mention specific accounts.
Places
Near this place:

Tweets sent when the user was at a particular location.
Dates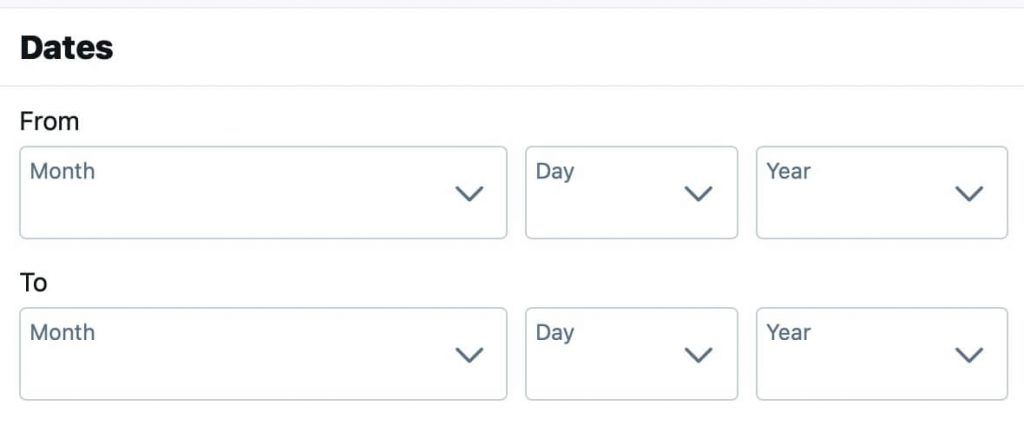 From this date to this date:

Very useful feature

to find tweets between a particular date range.
Why should you use Twitter Advanced Search?
Now that we have learned all the basics of Twitter Advanced Search and how you can use it.
Let us now move ahead to know how you can take its advantage in marketing campaigns…
Finding Potential Clients
Like we said in the introduction, there are over 6000 tweets sent per day. This makes Twitter a very lucrative platform to find potential clients. And with Twitter advanced search, you can look for clients in a particular niche, area, and more!
You can either use hashtags or keywords to find new prospects. Then you can reach out to the clients directly on Twitter to build a relationship and talk about the business.
Reputation Management
With Twitter's advanced search, you can monitor important conversations about your brand to manage the brand's reputation.

You can understand how your brand is perceived online by measuring the positive and negative remarks that your brand is receiving. The positive talk about your brand will help you in deploying growth strategies … while you can use the negative feedback to identify the user pain points and then work on them.
You can also use MyTweetAlerts tool to filter the tweets that mention your brand and find where you are lacking or need to improve.
Find More about your Target Audience
You can use the Twitter Advanced Search operator to better understand the likes and dislikes of your audience. For example, you can search for a keyword based on your product, to get the data on what your customers are expecting from your product/service.
This information can be a great starting point in crafting a powerful marketing strategy. With the audience research data, you can create the content, product, and services that your customers need.
Improve Customer Service
It is a well-known phenomenon that people use Twitter to voice out their feelings and experience about a brand — especially if it's not satisfactory. People no longer pick up the phone to get in touch with the customer service of any product/service. They rely on social media for raising their concerns.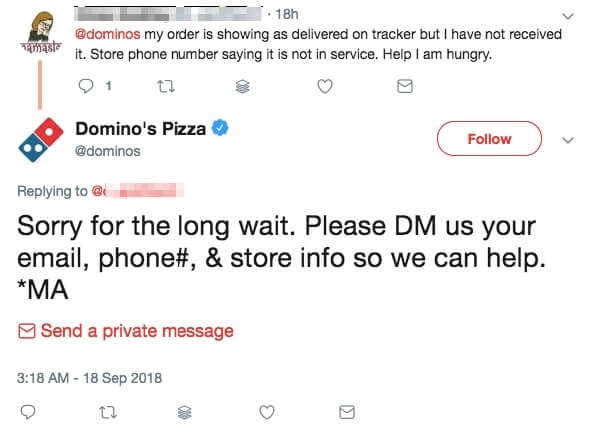 You can take advantage of this fact by ensuring that you offer instant support to irate customers before the things get complicated. It can also be an excellent opportunity to establish a positive image of your brand.
You can use Twitter Advanced Search to find your brand-related terms like 'help', complain', and 'support' along with your Twitter handle.
Find Media Opportunities
Using the same technique as above, you can also look for earned media about your brand with the help of Twitter Advanced Search.
Journalists and PR companies are usually very active on Twitter so you can directly reach out to them to share and promote your products and services.
Keep Track of your Mentions
Twitter notifications are commonly used by brands to track important mentions. Here the Advanced Search tool can help you get all the data about the mentions within a few minutes.
You can search Twitter and find the brand mentions that are using your brand image, name misspellings, and other relevant search queries.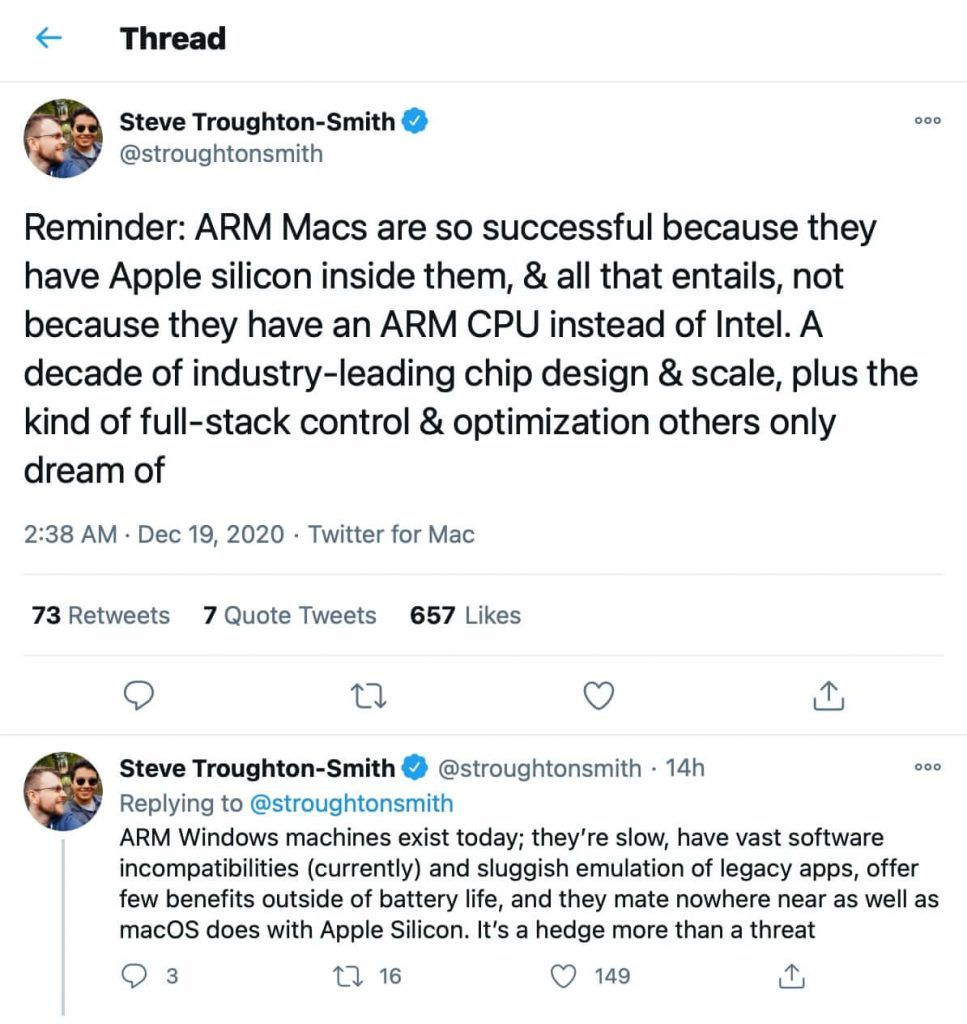 Find Relevant Industry Influencers
Nowadays, influencer marketing is on the rise, and many companies are using this strategy to catapult their brand in front of new audiences.
So you can use Twitter Advanced Search to find influencers that can help you form a social proof in front of your brand's potential customers. The Twitter search can narrow down the relevant influencers in your niche based on hashtags, geolocation, and specific query/keywords.
Tips for using Twitter's Advanced Search
1. Create a saved search
You can save up to 25 searches per Twitter account. These saved searches are handy to check what your audience is sharing with a complete overview of brand-related keywords and your mentions.

To save a search, you can click on the Explore tab, enter the search term, then click on Save in the menu. To use it, you can click on the search box, and a pop-up menu will display all your Saved searches.
2. Find popular tweets about a topic
Twitter displays all the top tweets for the search results which you can use to find out what type of tweets do well with your audience.
For example, you know that 'coronavirus' is a trending topic. You can then go to Twitter Advanced Search to see the trending tweets, and the tweets which have the highest engagement.
3. Find engaging content/topic ideas
It can be a struggle to find audience-specific topics with enough engagement to justify the content costs.
So you can use Twitter Advanced Search to simplify this process by finding the blog posts shared on Twitter that worked best with your audience.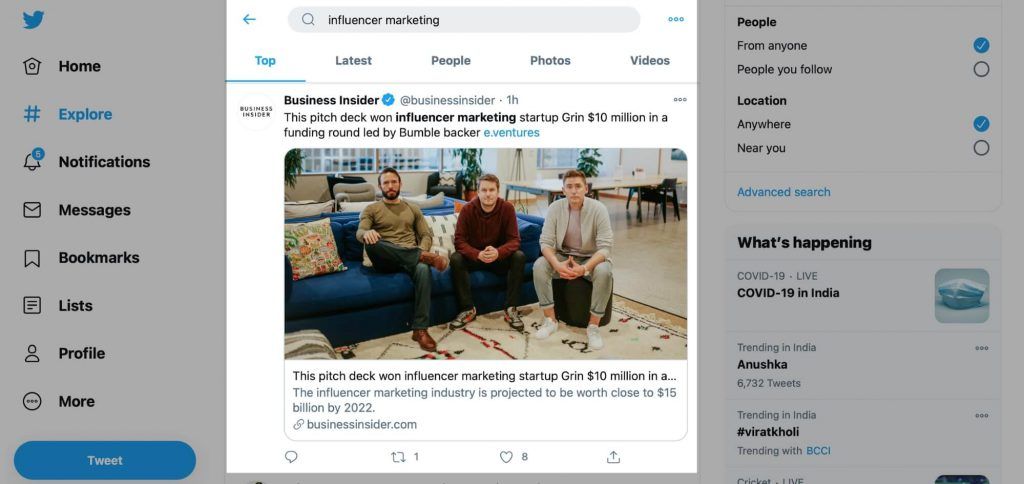 You can look for location specific topics, trending topics and your product related ideas.
4. Find happy and not so satisfied customers
Twitter has always been a very effective channel to find if your customers are happy with your services or not, and Advanced Search on Twitter can help you get workable feedback and ideas from your customers.
The sentiment filters available in Twitter Advanced Search will come in handy for this. You can use your product related keywords to find tweets that mention your customers voices about your brand products/services.
5. Monitor your competitors
In the same way, where you can monitor the sentiment about your brand, you can even use Twitter Advanced Search to find the user sentiments about your competitors.
You can use your competitor company name and URL in the Advanced Search to gather all the details. Then you can pick the positive and negative feedback given to your competition and use it in your advantage.
The direct negative and positive feedback can present you with many great ideas that you can implement to improve your offerings and get ahead from your competition.
6. Check out buying signals
Listening to the users is an essential aspect of social media … and it holds true in the case of Twitter as well.
For example, you can use keywords such as 'Anyone looking for' or 'Any advice on' and similar words to find what your potential customers have been searching for.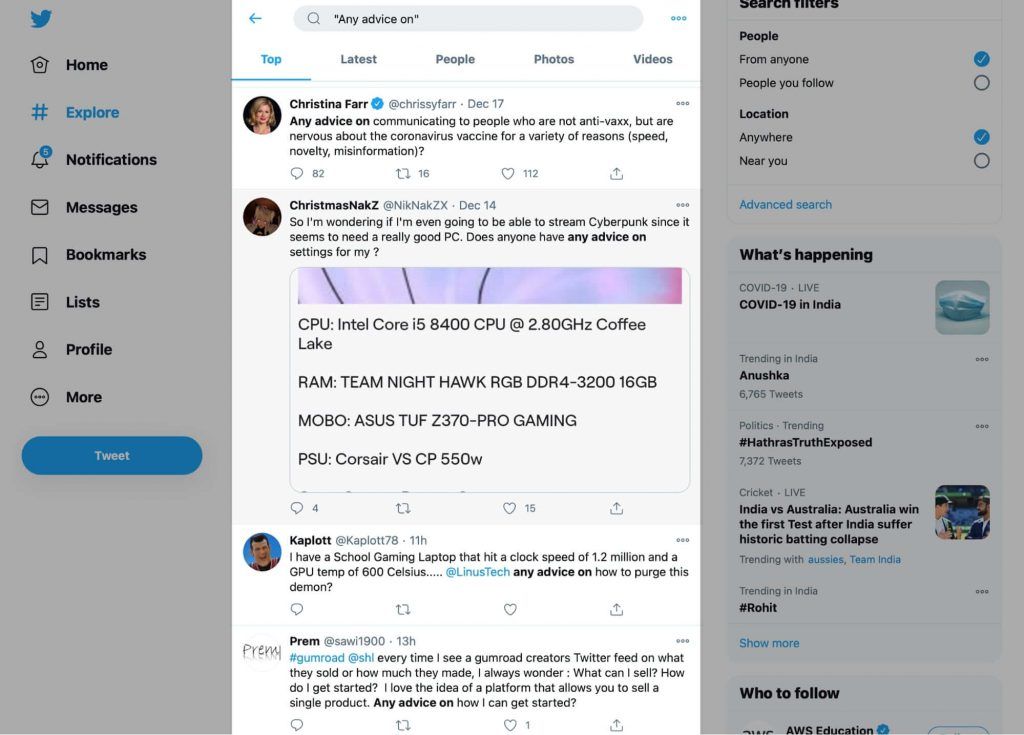 There are several buying signals that you can check with a combination of keywords. If you have a local product or service, then you can use the location based filters in the Advanced Search to further refine the results.
7. Connect with industry peers
Finally, you can use Twitter Advanced Search to find and start meaningful conversations with your industry peers. You can filter the search results by specific account and by the people you follow.
How can Twitter Advanced Search Help Drive More Leads for Business?
Twitter has over 335 million active users per month. This number itself should give you an idea that there are enough leads and prospects on this platform that can be scouted for.
So if you put Twitter Advanced Search to some good use, you can easily find continuous leads for your business.
Some of the tips for lead generation using Twitter Advanced Search are:
Use geolocation filters
Using the geolocation filters, you can find the tweets from any country or region with ease. If you are a small business and want to explore the opportunities in the local region, you can use the Advanced Search to target only specific leads in your area.
Avoid unwanted results
The exclusion filter in the search is a great way to avoid irrelevant and unwanted search results. With the exclusion filter, you can remove either your business details to analyze competition, or your competitor names to only focus on your brand.
Search your competitor's tweets
To stay ahead of your competition and to know what they are up to, you can analyze your competitors tweets. You can use different combinations of keywords or accounts to look for competitor accounts quickly.
Summary
Twitter Advanced Search is a very useful feature that you can use to find exactly what you're looking for.
But if you don't have the resources to manually search every time, you can use a tool like MyTweetAlerts to create and automate customized tweet alerts.
With MyTweetAlerts, you can monitor Twitter for keywords, hashtags, mentions, and discover tweets before they go viral. You can also set up email alerts or Slack notifications to get all the important updates in one place!
You can also read our guides on best PR tools and how to set up Google Alerts for PR.
Frequently Asked Questions (FAQs)
Where is Twitter Advanced Search?
You can locate Twitter Advanced Search on Twitter by clicking on More Options and then Advanced Search. The best way is to directly enter the URL for Advanced Search: https://twitter.com/search-advanced.
Why is Twitter's Advanced Search not working?
There can be a few glitches in the Twitter Advanced Search tool occasionally which can render it not working. When that happens, there is nothing much you can do to resolve the issue. Give it some time and visit the search after a few hours. If it still does not work, you can get in touch with Twitter support and share all the details about the issue.
Can you use Twitter Advanced Search on mobile?
No. Currently, the Twitter Advanced Search is only supported on the web version of Twitter so you will not be able to load it in your mobile.
How to use Twitter's Advanced Search?
Twitter Advanced Search is straightforward to use. You can simply launch the Advanced Search and enter the keywords in the fields accordingly. There are many filters that you can use based on words, language, people, location, and date range.
Why use the Twitter Advanced Search tool?
Advantages offered by Twitter Advanced Search are countless. You can use it to generate leads for your business, manage your brand reputation, customer care service, audience, and competition analysis, and for online marketing campaigns.