TweetDeck is a Twitter management application that allows you to work with multiple accounts, view huge amounts of Twitter data instantly, and schedule tweets — all in one easy interface.
Although TweetDeck is great, it also has its faults. As anyone who uses TweetDeck will tell you, it's almost impossible to follow conversations between different users. This becomes more apparent when you have multiple Twitter accounts that are being actively used.
So if you're not exactly happy with the way TweetDeck works, then it might be time you looked into some alternatives. This guide will look at some of the most popular TweetDeck alternatives like Hootsuite, MyTweetAlerts, Loomly, and more!
Let's get started…
What is TweetDeck?
TweetDeck is a social media dashboard app specifically available for Twitter. It lets you track trends, monitor conversations, create or search for lists, browse hashtags or keywords and compose Tweets — all from one dashboard.
You can also manage multiple Twitter accounts simultaneously, schedule tweets, engage with others, and add multiple columns to view different information streams from your Twitter account.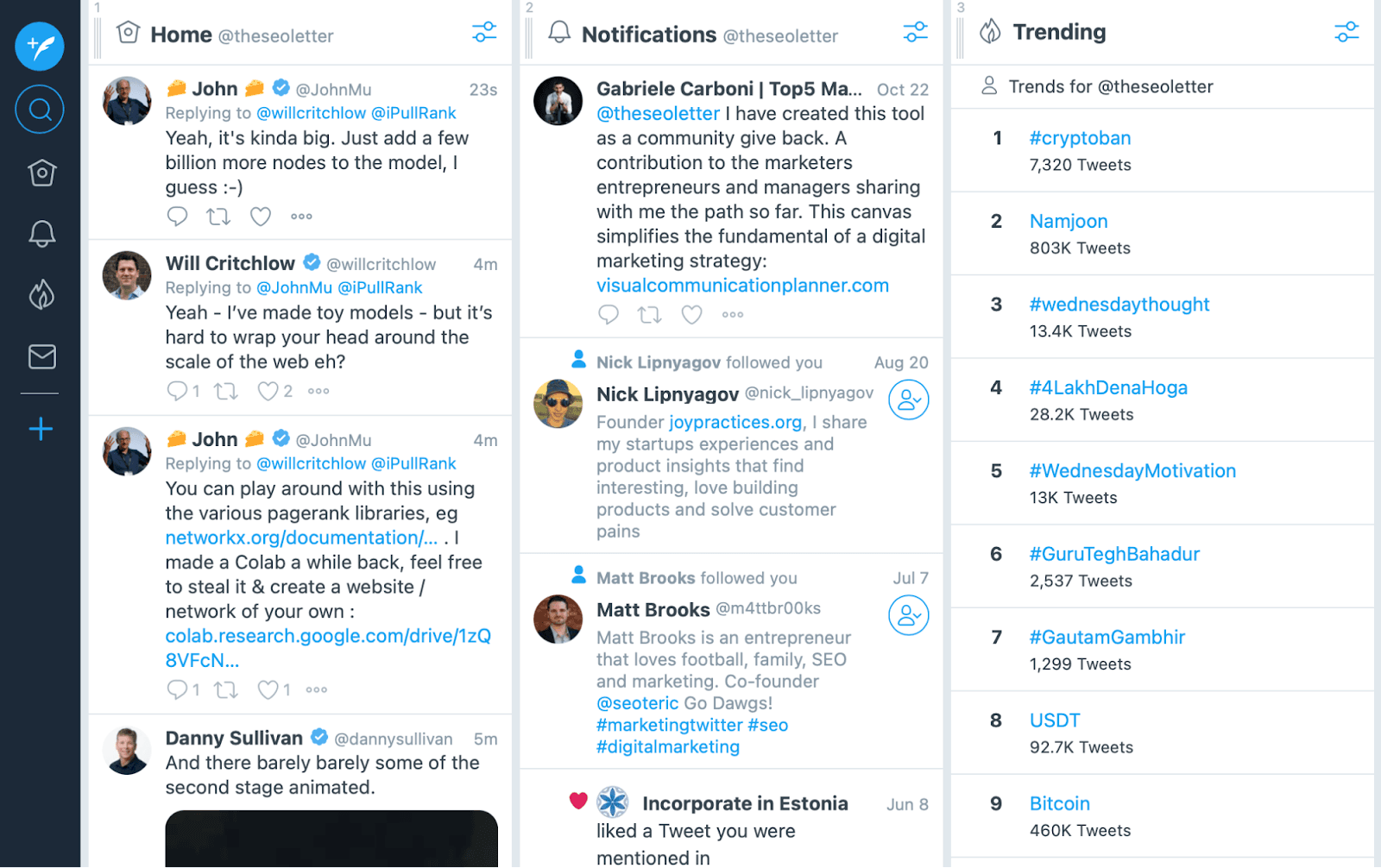 While TweetDeck was initially an independent app, Twitter acquired it and integrated it within Twitter's interface in 2011.
TweetDeck Alternatives
Here is a list of TweetDeck alternatives that can do a better job of managing multiple Twitter accounts. Most of these alternatives are also compatible with other social media platforms such as Facebook & Instagram, which makes them a lot more useful.
1. Hootsuite
Hootsuite is a leading social media management tool that you can use to monitor your Twitter conversations, connect your teams, and grow your followers. Hootsuite has one platform where you can engage with your Twitter followers, schedule tweets, and see all your Twitter direct messages in one place.

Hootsuite also has a interface similar to TweetDeck, where you can manage separate streams of Twitter data to filter out the noise. For example, you can manage your Twitter feed, notifications, messages, trending hashtags and conversations, mentions, and scheduled tweets — all in one place.
Plus, you can manage all your social media accounts within Hootsuite, like Facebook, Instagram, YouTube, LinkedIn, Pinterest, and WhatsApp. Hootsuite offers apps for all platforms — iPhone, iPad, and Android — so you can manage your accounts from anywhere you want.
For one user, Hootsuite is priced at $49 per month, with access to 1 user, 10 social accounts, and unlimited post scheduling. The paid plans start at $599 a month for up to 5 users, 35 social accounts, and more team-focused features for businesses.
There's a free plan also where you can manage 2 social accounts and up to 5 scheduled messages. It's a good enough plan if you're just starting with your social media marketing.
2. Loomly
Loomly is another alternative to TweetDeck that offers easy social media content management for marketing teams. You can manage all your Twitter content — organic posts and ads — within Loomly.
The tool offers many features like push notifications (on email, Slack, Microsoft Teams, etc.), pre-build post templates, Twitter trends, and more! The best thing about Loomly is that it allows you to manage all your social media assets in one place, such as images, videos, links, and post templates.
Also, in addition to Twitter, you can use Loomly for other social media platforms, like Facebook, Instagram, Pinterest, LinkedIn, YouTube, Snapchat, and TikTok.
As for the pricing, Loomly has a 15-day free trial, and its plans start from $35/month with access to 2 users, 10 social accounts, and unlimited content production. You can save up to 25% on all the Loomly plans if you subscribe on a yearly basis.
3. Buffer
Buffer is another alternative for TweetDeck that lets you connect all of your social media accounts (like Twitter, Facebook) and helps you keep track of them.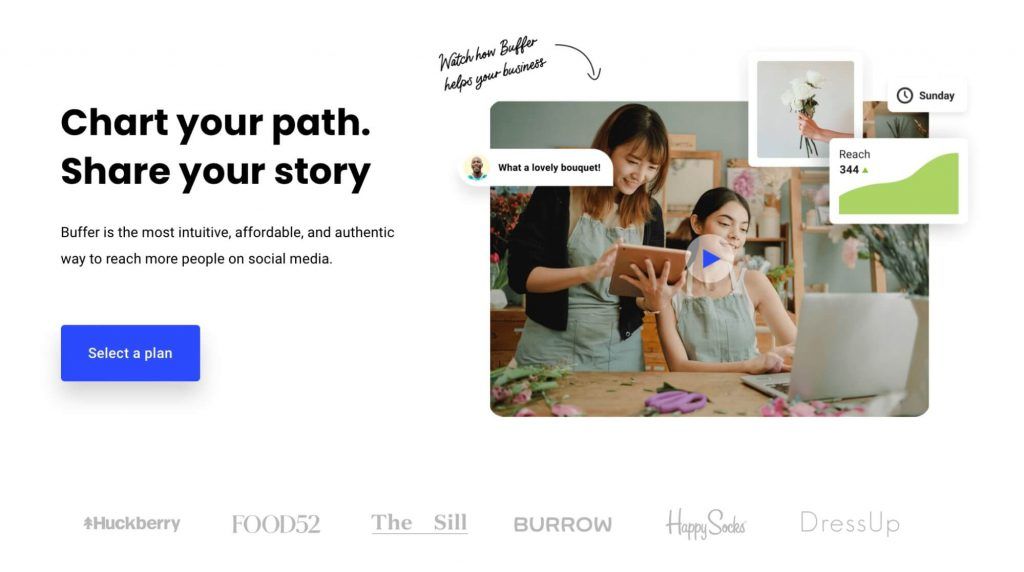 It allows you to analyze your social media presence, schedule or directly publish posts, engage with users, and manage everything within one simple dashboard only. Buffer also includes in-depth analytics and insights to measure your social media performance, individual posts data, and audience demographics.
You can start for free with Buffer if you need to manage only three social media channels. However, you need to hop on its paid packages if you need to access more than three accounts. The paid plans start at $6 per month per social channel with all the core features like publishing, analytics, and landing page builder.
4. MyTweetAlerts
MyTweetAlerts is a Twitter monitoring tool that you can use to discover tweets relevant to your business, agency, or personal brand.

You can set up custom Twitter alerts in this app based on filters such as keywords, tweets from specific users/list members, tweets with media attachments, tweets with links, or tweets from users having a certain amount of retweets, followers, likes, and replies.
All the alert history is saved within the app for you to view and act on the important tweets whenever convenient for you.
MyTweetAlerts plans start at just $9.95 a month for 10 saved searches and unlimited email alerts. You can also sign up now and get a 30-day trial free.
5. Tweetbot
Tweetbot is a Twitter client available for Apple platforms (iPhone, iPad, and Mac) only. It is an easy-to-use app that lets you do a lot more than the native Twitter app.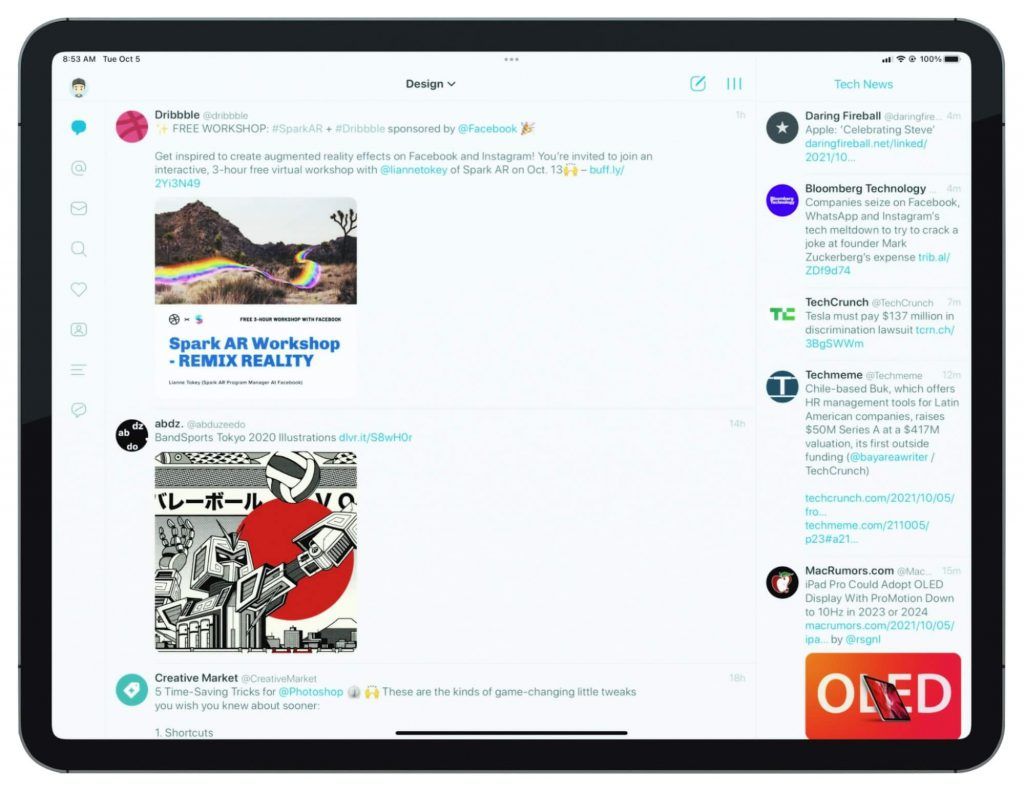 With Tweetbot, you can set up multiple timelines, use custom filters, and access notifications and messages. You can also customize the app dashboard as it supports custom themes, icons, and gestures.
It also supports iCloud Sync and Handoff, which means you can start writing a tweet on your iPhone and finish it on your Mac or iPad. Tweetbot does not track your account activity, so all the data is handled securely within the app.
You can try the app for free and subscribe to it after that at $0.99 a month or $5.99 a year. For Mac, the app is available at a flat rate of $9.99.
6. Sprout Social
Sprout Social is a social media management tool focused on businesses. You can manage multiple Twitter accounts within Sprout's all-in-one social business platform.
It lets you easily plan, categorize and share content with the Twitter audience, engage with followers, and manage a central shared publishing calendar.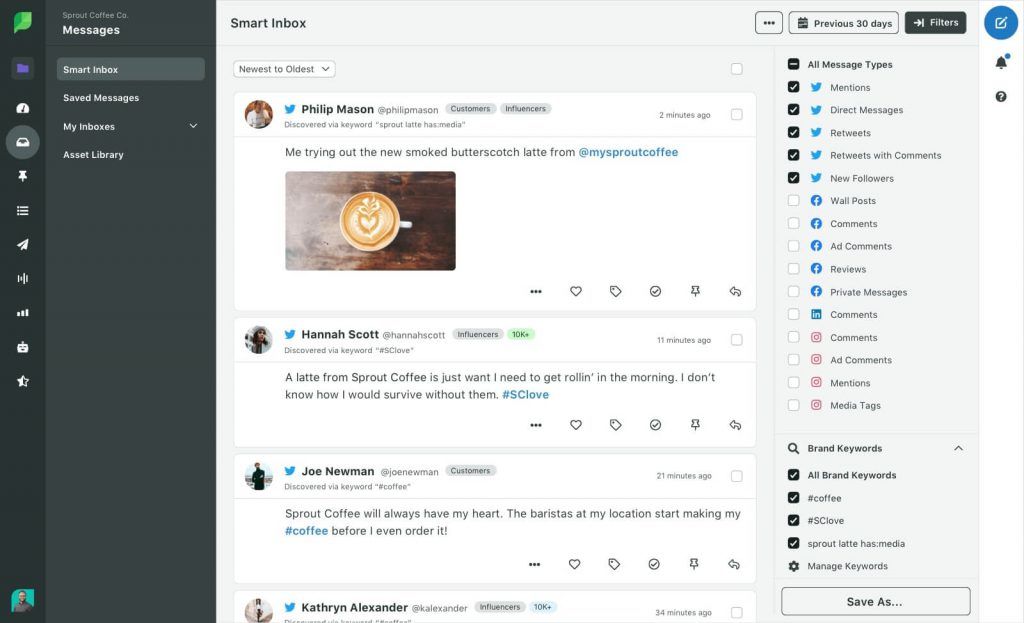 Sprout Social offers many features like historical Twitter conversations, direct messages, and custom lists to identify critical Tweets in Sprout's Smart Inbox. You can also monitor relevant Twitter keywords within the Sprout app.
There's built-in analytics that analyzes and identifies the content with the highest engagement to help you better understand what resonates with your audience.
You can try Sprout Social for free with a 30-day trial or start with its paid plan at $99 per month, including 5 social profiles.
7. Agorapulse
Agorapulse is a social media management platform that helps you to get all the relevant data and insights on your Twitter activities and give you excellent visibility on what's happening with your content. With it, you can track and manage not only your Twitter account but all other social channels as well, such as Facebook, Pinterest, Instagram, and YouTube — all in one place!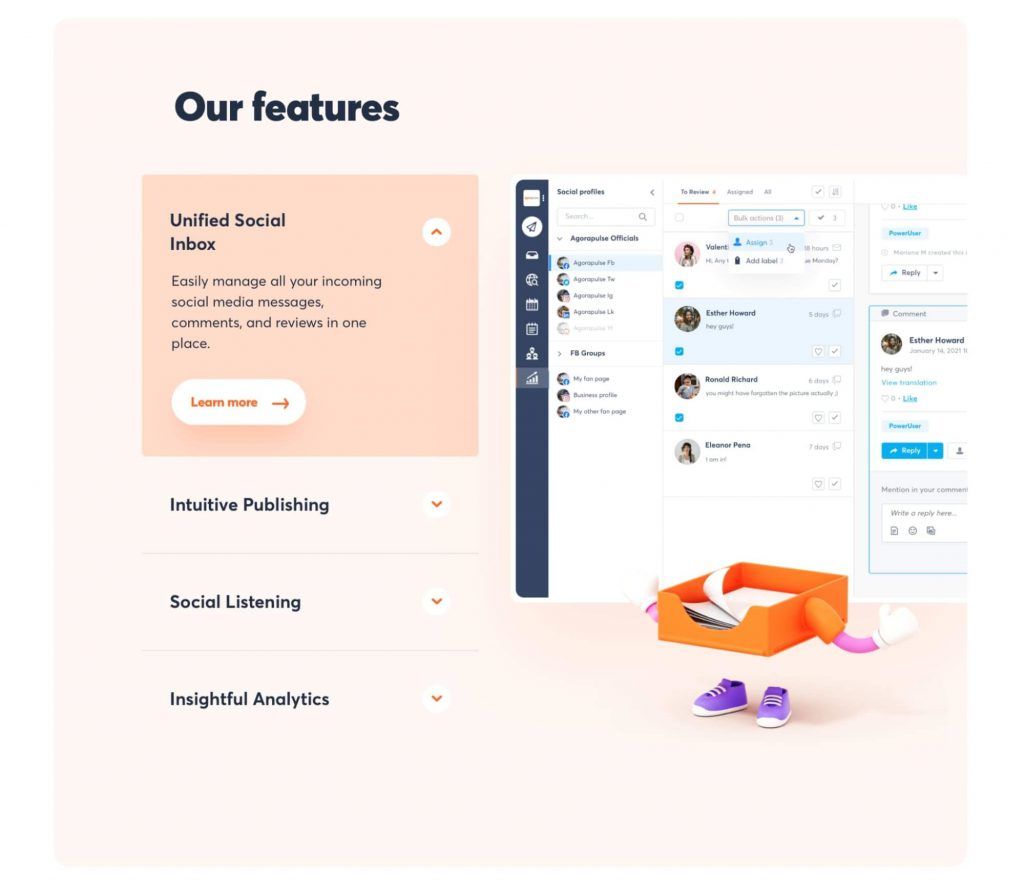 This tool allows you to schedule your tweets, track their performance, increase engagement, analyze your followers and also provide you with insights on the best times to post. You can also track keywords or hashtags on Twitter to keep track of meaningful conversations.
Agorapulse also offers best-in-class support with an average 30-minute response time and a 96% user satisfaction score.
Its pricing starts at $99 per month for 10 social profiles and 2 users. You can also try Agorapulse for free with access to 3 social profiles and 1 user account.
8. Tweepi
Tweepi is a tool you can use to manage your Twitter accounts and automate the entire process. This tool allows you to find new followers on Twitter, follow or unfollow them, and grow engagement levels.
With Tweepi, you can find users by filters like company name, location, interests, industry, etc., and follow them. This is super useful if you're looking to grow your Twitter following.
You can subscribe to Tweepi at $12.99 a month or $10.75 per month billed annually. This includes 300 AI-driven daily recommendations, hashtags monitoring, and up to 100 users per page.
9. Tweeten
Tweeten is a third-party app based on TweetDeck, but with a lot more features. It comes with a powerful interface, and it allows its users to track all the happenings of Twitter.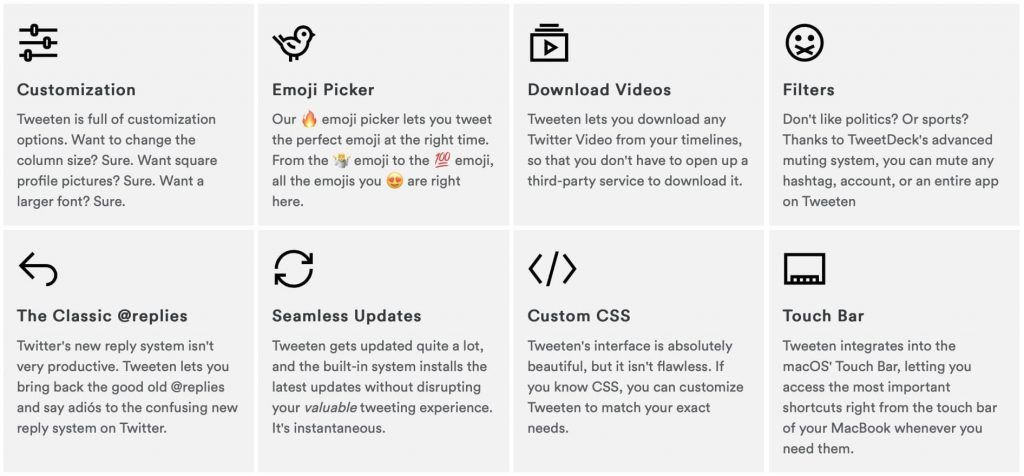 Tweeten is basically TweetDeck, but with many customizations features like emoji picker, account filters, seamless updates, and the macOS Touch Bar integration. You can also add multiple accounts in Tweeten, schedule tweets, use the advanced search, and track the activity of your Twitter account.
Final Words
TweetDeck is a great tool that gives you an easy way to organize and monitor your Twitter account feed. However, there are several other tools available that you can use to accomplish the same tasks and a lot more!
TweetDeck alternatives like HootSuite and Buffer offer many features that you can use to manage multiple Twitter accounts efficiently. While using TweetDeck alternatives will cost you money as most social media management tools are paid, it will be totally worth it for you in the long run.
If you're looking for a tool only for Twitter monitoring, you will love MyTweetAlerts. This nifty tool is very simple to use while giving you all the important Twitter alerts in one place. Sign up now to get a free 30-day trial.
FAQs
Is TweetDeck discontinued?
No, TweetDeck is not discontinued.
Is there something like TweetDeck for LinkedIn?
Yes, Hootsuite is for LinkedIn, like TweetDeck is for Twitter. It is a social media platform compatible with several other social media sites such as Instagram, Google+, LinkedIn, and Twitter.
What is the best alternative to Twitter?
Some alternatives to Twitter include Soup.io, Tumblr, Plurk, Reddit, Ello, Mastodon, and The Dots.
Is TweetDeck free to use?
Yes, TweetDeck is entirely free, and anyone with a Twitter account can use it. The social media tool is perfect for people and businesses who need to manage multiple Twitter accounts and schedule various posts.
Discover the tweets important to you with MyTweetAlerts
Try it first, if you like it, pay for what you use. No credit card required.