If you use Twitter regularly, either for personal or business purposes, you must have a ton of tweets, messages, mentions, or replies.
But what if you want to see the tweet you posted a few weeks ago? Or a message you received from someone? or the mentions from your customers?
You can use a Twitter search for all of this, but it only allows you to go back to 10 days. So you are limited to only around a week of search results.
Well, this is where third-party apps like SnapBird are used. This app can help you search your tweet, messages, and mentions history without the limitation of 10 days.
So let's see what is SnapBird app and how you can use it to access your Twitter account history…
What is SnapBird?
SnapBird is an easy to use app where you can simply enter a keyword or a username, and it will search through your Twitter account tweets, mentions, and replies to get you all the relevant data.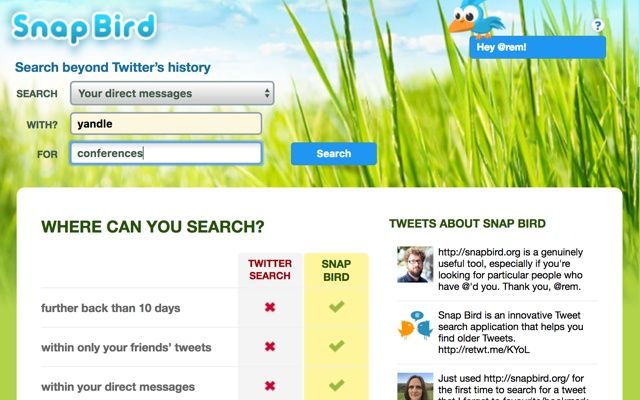 You can also use SnapBird to search within your messages or you can also search through your friends posted tweets and any user's favorites.
Even if you're not a regular Twitter user and only tweet on a weekly or monthly basis, SnapBird can be really helpful for you if you have to look for something in your account history.
To access the data in your Twitter account, it asks for the read and writes permissions, but it cannot save or post from your account, so you can be sure that your account data is safe.
And the tool is completely free, so you don't have to worry about any search limitations. You can use SnapBird for as many keyword searches you want.
How to Use SnapBird?
SnapBird app only works when connected to the Twitter account.
So to integrate this app with your account, you can follow the below steps:
Go to the SnapBird website.
Authenticate your Twitter account (it only takes the read access).
And, that's it.
Now you can click on the search tool in the top left corner and enter any keyword to search through your account.
All the results are displayed in chronological order, so you can quickly find the tweets based on the published date.
By default, it searches in your account history from the time when you first signed up on Twitter, but you can also set a custom date from when you want to start the search.
However, there's no option to filter the results by the type of media.
If you find SnapBird isn't working as expected, you can try MyTweetAlerts — a Twitter monitoring tool to alert you by email as soon as your tracked tweets are published.
SnapBird Alternatives
If you're looking for alternatives to SnapBird, you can take a look at the following tools that work flawlessly with Twitter.
1. Twitter Search
Twitter Search is a tool that allows you to search across your entire account history for free. The search is powered by Algolia, so the search is super fast and secure.
With the free plan, you can search across your 100 most recent tweets and sync your Twitter account for the first time. It also has a premium pricing plan at $4.99 per month, that enables your latest tweets' automatic syncing.
The tool is open-source, so there are no privacy or safety issues related to the handling of account data.
2. Pikaso Bot for Twitter
Pikaso is a screenshot tool for Twitter that you can use to get a clean screenshot of any tweet. This is a simple tool to save any tweet as a screenshot image that you can share with other platforms like Instagram, Facebook, Newsletters, etc.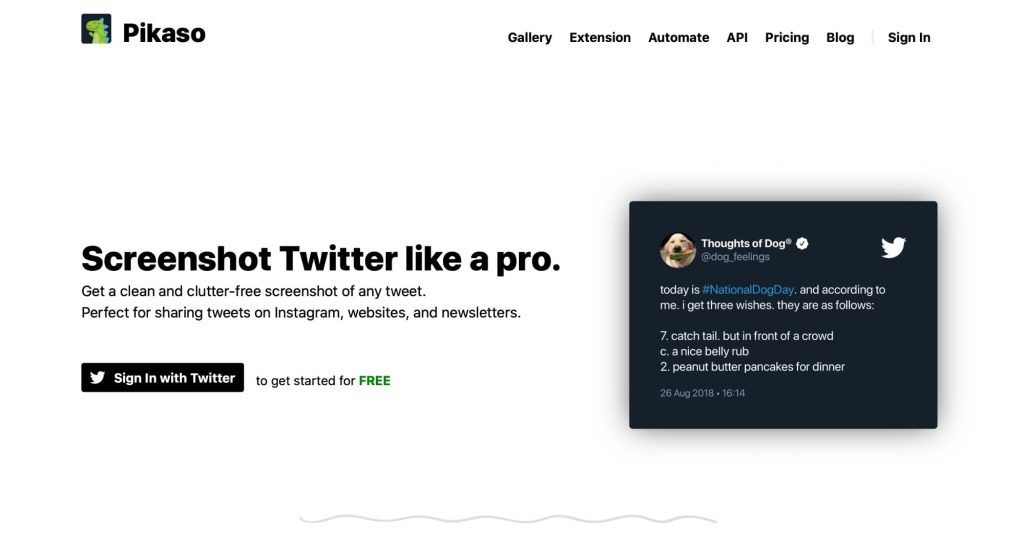 A browser extension is available to take screenshots directly, or you can reply to any tweet to activate the Pikaso Twitter bot.
With the Pikaso free plan, you can take unlimited screenshots with a standard layout and light theme. If you want to remove the watermark and get access to the premium layouts and themes, you can subscribe to its Pro plan at $7.99 per month (billed yearly).
MyTweetAlerts
Twitter is a popular social media sharing platform that is now used by over 330 million users every month. People use Twitter for quickly sharing news, brand communications, and personal views.

But with millions of tweets posted every day, it can be challenging to keep track of all the important tweets for your business, agency, or personal brand.
To help you find important tweets, we developed the MyTweetAlerts tool. You can use this tool as your personal Twitter assistant to find all the tweets that are important to you, delivered straight in your inbox with your own customized Twitter email alerts.
So click here to try MyTweetAlerts for free (30-day trial) now or subscribe to the monthly plan at just $9.95 per month.
FAQs
Is SnapBird safe?
Yes, SnapBird uses Twitter API with read permissions only, so it cannot post anything from your account or save your data on their servers. It can only read the data based on your searched keywords, and the data refreshes with every new search.
How to delete the SnapBird app of Twitter?
To remove SnapBird access to your Twitter account, go to Settings > Security and account access > Apps and sessions > Connected apps, and select SnapBird from the list and click on Revoke Access. This will delete SnapBird from your Twitter account.
How did SnapBird get permission to access Twitter history?
SnapBird and all third-party apps use Twitter API to access the user data when authenticated with any account. The Twitter API is very secure and only gives limited access to all the apps to keep the user data private and safe from unwanted access.